Coexistence means sharing responsibility and proper management of the economy is one of the keys to avoiding setbacks of any kind, so learning to save with a partner It's fundamental.
Talking about money with your partner can be tricky at times, as can setting savings goals, but ensuring a long-lasting relationship is crucial. It is important to remember that coexistence is sharing responsibility, and proper management of the economy is one of the keys to avoiding setbacks of any kind.
Let's not forget that a couple forms a team that must work in the same direction if they want to continue with their common life project. Therefore, we give you some tips that will help you learn how to save as a couple to achieve your goals.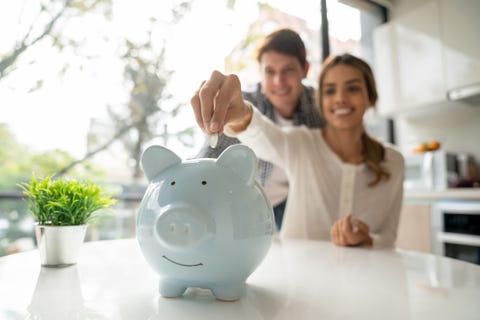 Tips to learn to save as a couple
Although there are many tips and tricks to know manage savings as a couple, there will always be those who cause indisputable controversy in the media. As is the case of the controversial Swiss proposal to deal with the energy crisis. Environment Minister Simonetta Sommaruga recommended that couples shower together to save 15% in energy consumption. Although you may end up saving by taking this measure, we propose some more effective and simple ones:
Check your financial situation
The first step is to review your finances and estimate a cost sharing budget. That way, you'll know exactly how much you can save each month and how much you can spend.
Having a complete picture of your income will help you make the right decisions to improve money management as a couple.
When you talk about your dreams and your future plans, do you imagine yourself traveling the world or buying your dream home? Focusing on your long-term goals will help you save and avoid the temptation of unnecessary spending.
Saving is not synonymous with depriving yourself of everything. Enjoy your money and include in your budget expenses that help you strengthen your relationship without getting out of control. It can be very useful to get away from each day and change your routine from time to time. It is true that you can probably go out less frequently or do activities that do not involve a lot of money, but you will also learn to enjoy dinners at home and movie plans on the couch.
Take advantage of the discounts
It all adds up. When you have to buy any product or service, do not forget to compare costs and get the best offer. While it may not seem like a huge amount, it can bring a lot of long-term satisfaction and help you reach your goals faster than expected.
Challenges to save as a couple
Now that you know some important tips, let's look at five challenges to save as a couple that will help you achieve your goals.
This is truly a lifetime savings goal. This means that they have to divide their income into three parts. The main 50% goes towards basic expenses, that is, expenses that you cannot avoid, such as paying rent, food or transportation.
The following 30% is for all things entertainment, like dining out, watching a movie, or shopping for less important items.
The last 20% must be dedicated to savings, so they can create a savings fund to be ready at any time.
Do you want to go on vacation or buy a new car? This is your challenge. The first thing you should do is determine how much you want to save and when you should be ready to know how much to save each month.
Once one goal is achieved, the next one must be set. They can be as diverse as buying new furniture, home maintenance, a computer, or a new television. You set all the goals.
This is one of the most famous challenges includes saving one euro a week compared to the previous week. That is, the first week you have to set aside 1 euro, the second week 2 euros, the third 3 euros, and so on, until you reach the last week of the year (week 52), you will have to set aside Save 52 euros.
Thus, after 12 months, you should be able to save 1,378 euros. You can use the magic of compound interest to set aside a certain amount for investment and growth, set aside as an emergency fund or for personal whims like going on vacation.
Compete for who saves more
Here, you can set a deadline, say 30 days, and put all the money you don't use on a day-to-day basis in two different piggy banks. Even if one person earns more than the other, one always saves more than the other. Finally, the one who has saved less must compensate the other, for example, cooking or doing pending tasks such as cleaning or shopping.
After knowing all these tips to learn how to save as a couple, we recommend you take a look at this other post about the free prepaid card and know all its advantages and benefits to continue with your savings routine.